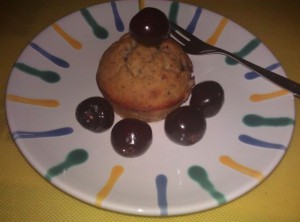 These delicious muffins can also be dairy free, if you substitute the heavy cream with coconut milk or almond milk. 🙂
Ingredients:
¾ c cherries (remove pits)
¼ c dark chocolate pieces or chocolate chips
¾ c almond meal
½ c almond flour
¼ tsp baking powder
½ c Xylitol
¼ c coconut oil
1/3 c heavy cream (half heavy cream – half water)
3 eggs
1/8 tsp salt
1 tsp vanilla extract
Heat your oven to 350°.
1. Whisk eggs, coconut oil, heavy cream and vanilla extract together until nice and creamy.
2. Add salt, xylitol and baking powder, mix well.
3. Add almond meal and almond flour (Anthony's Blanched Almond Flour, (5lb), Batch Tested Gluten-Free
)
to the mixture until you have a nice smooth batter. Make sure it is not too runny – if so, add some more almond meal. If it is too thick, add some more heavy cream.
4. Incorporate the chocolate and the cherries.
Fill your batter in your muffin cups, but don't over fill.
Put your muffin forms into the middle rack of the oven and bake about 25 minutes. Depending on how juicy your cherries are, it might take a little longer.
Mine were very juicy and I baked them for another 5 minutes and then turned off the oven and left the muffins inside with the door closed for another 5 minutes.
After that take them out and let them cool down. Trust me, don't try to take them out when they are still hot. I know it is tempting 🙂 and I did it before, but I ended up with a broken muffin – which was not bad because they were soooo delicious.
Depending on how much batter you put into your muffin cups, you will get anywhere between 8 to 12 muffins.
I like to keep them small, so I use an ice cream scoop to fill and make sure that I divide the batter into 12 portions.
Of the 12 muffins I usually keep 6 in the refrigerator and 6 will be individually frozen. To thaw, just take them out and let them sit on the counter for about 30 minutes. If you like them warm, you can heat them in the microwave for 20 seconds.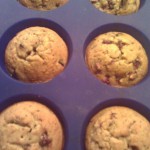 I use silicone muffin cups ( Silicone 12 Cup Muffin Pan )
, because it is so much easier to remove the muffins. No breaking or sticking.
And I put my silicone muffin cups on a baking sheet, so I don't spill the batter.
Because if you fill the muffin cups too much, the batter might run over the rim and into your oven. That happened to me once and the hot coconut oil, as well as the fruit juice spilled on the heating element and set it on fire. It took me a long time to clean those heating elements. 🙁
A couple years ago I found a Chocolate Doughnut recipe on the site of one of my favorite authors: Yasmine Galenorn. You can check out her yummy recipe here: http://www.galenorn.com/Blog/2012/10/low-carb-chocolate-doughnuts-hot-chocolate/
With many thanks to Ms Galenorn, we adapted that recipe due to it's versatility, to our recipe with addition of different ingredients.