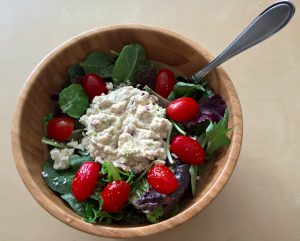 Dear Readers,
Before I left Austria my husband asked me what I would like to eat once I got back home. So I told him that I would love to have salad and fruit and maybe some sausages.
When I got home the refrigerator was stacked with delicious salad and lots of fruit. So today we had tuna salad for a healthy lunch on a hot day. As you can see from the picture on the top I placed the tuna salad on a bed of greens with tomatoes and feta cheese.
In order to make the tuna salad I have a very nifty gadget from Tupperware, which my sister gave to me. It is called the Power Chef® Premium System and consists in the short of Power Chef® 5¾-cup/1.35 L base, Chop 'N Prep 1¼-cup/300 mL and pull-cord cover. Pictures will follow as soon as it is dry – just washed it after chopping my tuna salad 🙂
I cut some chunks of onion and celery, added some garlic and pulled on the cord to mince it. Then I added the tuna, some tuna liquid and a little bit of mayonnaise. Pulled again and I had a nice creamy tuna salad.
Assembled the bowl using an organic salad mix, feta cheese and some organic tomatoes, added some salt, olive oil and balsamic vinegar and put a scoop of tuna salad on top.
Very simple and absolutely delicious tuna salad. My husband used to bring that home when he was working for a television network. The catering gave the crew leftovers to take home and many times he came back with either tuna salad or chicken salad on a bed of greens, although with some crackers on the side. But the idea is the same and so delicious.
As desert we had a cut up mango. A friend from the gym brings my husband 2 mangos a day from his trees. So we will be eating mango every day until the season is over 🙂 I used to have mango trees and they usually give off a lot of fruit. So, until my very green bananas are ripe and I can make Banana-Mango ice cream, I will be eating mango. In addition my husband bought grapes, mandarines and cherries.
So hot days are covered in our house. Salad and then fruit for desert. What are you making on a hot day? Are you eating something cold, or are you cooking a hot meal?
Let me know in the comments!
Have a wonderful day and we will talk soon