Yes, I started to exercise again. It took some convincing and a lot of motivation.
I usually spend all day in front of the computer. And going outside with the cat is not really exercise. She is not a dog. Even she is on a very long leash, she does not like to walk. She wants to do her own thing – either sit in the sun, or hunt lizards. So that cannot be considered exercise.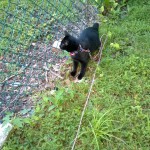 Also, living in Florida, makes it much more difficult for me. It is sooooo hot most of the year that I really think twice, if I should go outside, or just stay in the air conditioned house. I would love to go for walks, or we were thinking about getting bikes and use those to go to the gym. But in that heat – I don't know. My husband suggested first walking to the gym. But alone the thought of walking 30 minutes in 90 degree heat each way, without shade – sorry, I don't think I can do that.
So we do take the car to the gym 7 days a week. Yes, we go every day. First we swim for 45 minutes and then we attend AquaFit for 50 minutes.
AquaFit is only 6 days a week, but on Sunday we just go for a swim.
And it feels good. Very much so.
Now, not everybody is familiar with AquaFit. I will post some exercises separately and get more into explaining how it works.
I am also starting Callanetics again. I don't know, if anybody is familiar with Callanetics. But it strengthens your muscles through very small but precise movements. I got the book 'Callanetics – by Callan Pickney' and also the 'Callanetics DVD – by Callan Pickney. I will also post some of my exercises and progress separately.
Last but not least I am also working on some strength training with exercise bands. I will as well post some exercises separately.
Yes, this is more exercise than I have ever done in my life. And, it feels great. Especially with incorporating healthy Paleo – Gluten Free foods.