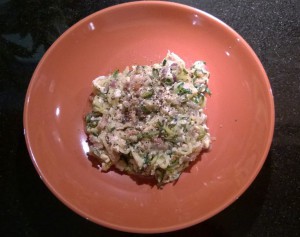 Yes, I love Pasta! And I am sure most of you do too. But pasta is made with flour and by following a Almost Paleo as well as Gluten Free lifestyle I do not eat regular pasta. Thankfully there are wonderful healthy alternatives to conventional pasta.
One of them is pasta made from zucchini. It is so easy to make and tastes just heavenly 🙂
The following recipe makes between 5 to 6 portions, depending on how hungry everyone is.
Ingredients
6 medium Zucchini fairly straight grown
8oz bacon
1 medium onion
4 eggs
salt and fresh ground pepper to taste
1tbs heavy cream (optional)
1. Wash your zucchini, cut off the ends and put them in your slicer to make small curls – if you do not have a slicer you can use your potato peeler to make thin strips 🙂
2. Salt your zucchini, cover and let stand for at least 1 hour
3. Fry the bacon in the pan and then add onion and cook until onion is translucent
4. Drain and squeeze out as much water from your zucchini as you can – otherwise you will have soup in your pan
5. Add the zucchini to your pan and add salt to taste
6. Let cook for about 5 minutes, then add the eggs and optional heavy cream and stirr
7. Cook for 1 to 2 minutes
8. Plate your zucchini carbonara and sprinkle with freshly ground pepper
Zucchini Slicer                                                                  Zucchini curls without salt
Drained Zucchini                                                                      Zucchini Carbonara
A few additional comments:
As you can see in the pictures, the volume of fresh cut zucchini curls and salted and drained curls greatly differs. There is a fair amount of water in a zucchini. So I plan for about 1 to 1.5 zucchini per person, which also depends on the zucchini size.
Once I drain my Zucchini, I use my scissors (I have scissors I only use for cutting food: vegetables, bacon, etc.) to cut the curls into smaller, more manageable pieces.
Adding heavy cream makes the pasta non paleo, but still gluten free.
If you like you can add fresh parmesan slices when you serve your pasta. We usually don't use any cheese.
Enjoy!
And as always, if you questions or comments, please feel free to write 🙂