.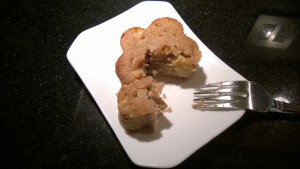 These Gluten Free Apple Cinnamon Muffins are one of my favorite muffins. So easy and fast to make. And I love the combination of apples and cinnamon.
This recipe might have a little too much cinnamon, so if you are not a fan, just reduce the amount. And for you out there following the strict Paleo diet, substitute the heavy cream with coconut milk or almond milk. You won't notice the difference.
If you are following a gluten free lifestyle and are not against dairy, you can substitute the coconut oil with grass fed butter.
Now let's get started.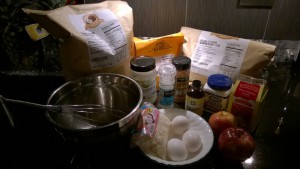 Ingredients
1c almond flour
2 tbsp coconut flour
1/4c coconut oil
1/3c heavy cream
1/4c water
1/4c Xylitol
1 ½ tsp cinnamon ( less, if you are not too fond of cinnamon, we love the taste, so I usually put a little bit more)
1/4 tsp baking powder
1/8 tsp salt
3 eggs
2 medium apples cored, peeled and cut into small pieces
¼ c unsweetened coconut flakes
Heat oven to 350°
1. Whisk eggs, coconut oil, heavy cream and water together until creamy.
2. Add salt, baking powder, cinnamon and xylitol. Mix very well.
3. Add almond flour
and coconut flour
. Make sure batter is nice and smooth and has no lumps. If the batter is too thick, add some water. If it is too thin, add some more almond flour.
4. Incorporate your apples and coconut flakes into the batter. Mix well.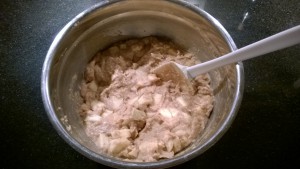 Divide the batter up into 12 muffins and put in oven for 20 to 25 minutes. Mine took 25 minutes and then I left them another 5 minutes in the oven with the heat turned off.
When done, take them out and let them cool. I know, it is tempting, but if you don't want them to fall apart, don't take them out when they are hot.
Of the 12 muffins I usually keep 6 in the refrigerator and 6 will be individually frozen. To thaw, just take them out and let them sit on the counter for about 30 minutes.
If you like them warm, even out of the refrigerator, you can heat them in the microwave for 20 seconds.
This makes nice warm muffins you can enjoy by themselves or add a spoon of ice cream.
Enjoy!