Here is my review of a spiralizer that should be in your kitchen, if you live a paleo and/or gluten-free life style.
Paderno World Cuisine A4982799 Tri-Blade Plastic Spiral Vegetable Slicer
I know, it has a very long name, but the slicer does everything it promises.
It is made of plastic and has 3 interchangeable blades: 1/8-inch spacing, 1/4-inch spacing, and straight blade for ribbon cuts
Yes, I know, not everybody likes plastic, but I did not have any problems with breaking. It is sturdy and very well constructed.
The blades are easy to put in and take back out, but still secure when you use the spiralizer. They are very sharp and cut your vegetables nicely. There are 2 slots on the side for storage of the blades, but I keep them separate so the spiralizer is easier to clean.
The slicer has 4 suction cups that anchor it very well to your countertop. If you push down from the top, they will not slide. I have a granite countertop and they are very secure and I have to pry them lose when I am done.
You can use different types of vegetables to cut. If you are on a paleo life style you will probably use them for zucchini, squash, carrots, sweet potatoes, apples, pears, etc.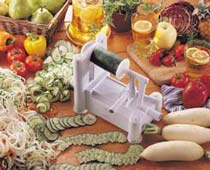 Simply place the vegetable or fruit on the prongs, turn the wheel while pushing the base toward blade. Do not push with the turning lever. That might get you in trouble. There is an extra lever on the bottom to slide the vegetable.
The softer vegetables and fruits are easier to slice, sweet potatoes a little harder, but doable.
The vegetables/fruits should be at least 1/2″ in diameter, so it can cut around the core.
When you buy your vegetables/fruits make sure they are as straight as possible. Trust me. I had to work my way through a bent zucchini or two. You can do it, but if the vegetable is straight it goes so much faster.
Once it is sliced you will have a long middle core of the vegetable left. I always cut it up in thin slices and add it to the spiralized portion.
Cleaning is very easy. You push slightly on the bottom part of the blade and it slides out. Then you can wash it with hot water and dishwashing liquid.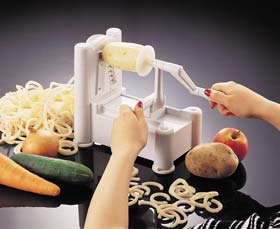 It says you can put it on the top rack of your dishwasher, but I like to clean it immediately after I use the spiralizer. That prevents it from staining (carrots and sweet potatos anyone 🙂 )
All in all, I love this spiralizer and use it at least once a week. I had no problems with it for the last 1.5 years.
If you have questions, I will be happy to answer them for you. Just leave me a comment.