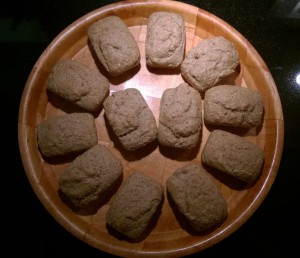 If you need a quick and easy bread, this Flax Seed Bread is perfect. It is very versatile. You can add some parmesan cheese or herbs to the dough to make it taste different, or just keep it plain.
Flax is a very nutritional and healthy food, but I cannot stress this enough, please drink a lot of water to aid digestion and in order to prevent bowel obstruction.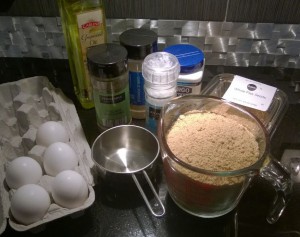 Ingredients:
2 cups of flax meal ( I used a coffee grinder to make my own flax meal from flax seeds)
5 eggs
1/2 cup water
1/3 cup oil ( I used Grape Seed Oil – it has a light flavor)
1 tsp salt
2 tsp baking powder
1 tsp garlic salt (optional)
1-2 tsp Italian herbs (oregano, thyme, rosemary, majoram) (optional)
1. Mix eggs, water and oil
2. Add salt, herbs, garlic powder, baking powder and flax meal
3. Put in baking form and bake at 350 F
Depending on the form you use, bake for about 30 minutes for small breads and about 50 minutes for a loaf. Baking time depends on the form you use. I used my silicone 12 cup baking form and mine took 30 minutes.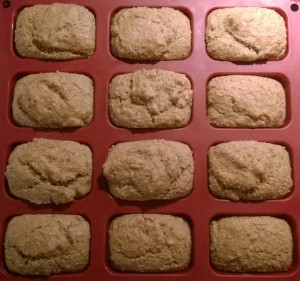 Enjoy!