Switching to a paleo and or gluten free lifestyle was much easier than I thought.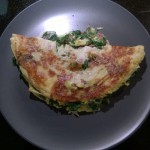 I always loved vegetables and I used to make lots of dishes that used fresh vegetables. Now with my almost paleo lifestyle that did not change.
Besides eating raw vegetable platters much more often than before, I still use them to cook my favorite foods, like quiche, frittata and pasta. I just leave out anything that has conventional flour in it.
There is also no change in cooking time. You will see that most of my food does hardly take any time in the kitchen.
So, let's get started with the Paleo and/or Gluten Free main dishes.
Almost Paleo Zucchini Mushroom Risotto