Hi everybody,
I must apologize that I have not been in touch for several weeks. When I started working in January I knew there was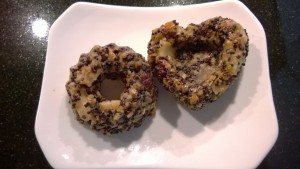 not much time for writing, but then I also signed up for a translation job. So that meant my weekends were spent working too. Last week I finally finished the translation work, so I am able to start writing my posts again.
One thing I noticed when working 7 days a week – there is no time to cook or prepare food.
So last weekend I put on a pot of tri-colored quinoa and then decided that I wanted something sweet. I let it cool down and mixed the 2 cups of quinoa with 2 cups of quick oats, 8 tbsp. of maple syrup and 4 eggs. I filled 24 muffin cups and baked the muffins for 20 minutes at 350 F.
They taste absolutely delicious and I take one for my friend and one for myself every day to work.
Today was my friends birthday and I came across a project to make a fairy garden. So yesterday I went out and bought everything I need, to make 2 fairy gardens because my other friends birthday is in 2 weeks. I then started to decorate the pots with moss and then make the decorations out of fimo – lot of work, but lots of fun! Now the baking is done and I have to assemble the garden. A picture will follow as soon as I am done.
Have a great week everybody!
Karin