Hi everyone!
I hope you had a wonderful and safe 4th of July holiday.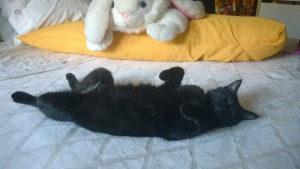 Ours was very quiet. We had a wonderful Paleo and Gluten Free Zucchini Carbonara and watched the Macy's Celebration on TV. Often we don't really care to go out on big holidays. There are too many people and there is too much drinking and driving.
So we stay home and have a good time. Thankfully our kitty is not afraid of loud noises like fireworks. The only thing she does not like is the smoke coming from an open fire – like our neighbor's grilling last night. She rather stays indoors and goes to sleep 🙂
I am sure many of you fired up your grill and had some delicious ribs or sausages 🙂
We don't have our deck finished, so there is no grill yet. But I had zucchini, and my husbands favorite is Spaghetti Carbonara.
According to our paleo and gluten free lifestyle we do not eat conventional pasta, so I made the much healthier vegetable version: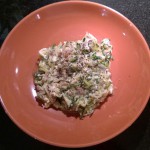 Zucchini Carbonara. This is a very easy and quick meal that tastes really delicious. And you can have your zucchini al dente, just like pasta:)
Get the recipe here and give it a try. I am sure, if you love zucchini, you will like this.
Have a great Sunday and as always, comments are welcome!
Karin