My dear readers,
I hope you had a good week and your weekend is relaxing. Today I want to talk about "QR Code instead of written GMO Labeling".
This week I got an email from the Center for Food Safety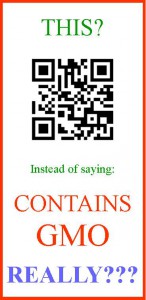 with a call for action to tell Congress that you do not want to have to use your smartphone in order to find out what is in your food. Our politicians are trying to get prevent us from knowing what is in your food any way they can.
Tell me, "how many of you have every used a QR Code at the grocery store?" I know I did not. If GMO's are sooo good for us, why not tell us on the package? Why hide it?
Would you like to have on the package a QR Code instead of written GMO Labeling? I am absolutely against it. Pre-packaged food is bad as it is, so another label with GMO on it won't make it worse.
The other day I picked up a "Healthy Energy Bar" out of – High Fructose Corn Syrup, Fructose, Sugar, Maltodextrin…. yeah, really healthy!
So back to QR Code vs GMO Labeling, please join the Center for Food Safety in the fight against Congress: her is the link where you can sign the petition – http://salsa3.salsalabs.com/o/1881/p/dia/action3/common/public/?action_KEY=17805
There are more petitions coming because the big corporations, specifically Monsanto are never going to stop poisoning our food. So please, if you care what you eat, stay with me and I will bring you the petitions when they come out. We have to win this fight!
Thank you for reading and I hope you will join me in this fight.
Have a great weekend,
Karin