Hi everyone! What a beautiful Saturday!
We already went to our AquaFit exercise and I am all energized 🙂
I already prepared part of our lunch today – Zucchini Carbonara – Yummmmm
I will be posting pictures and recipe a little later, because I am still new to taking pictures while I am cooking. So please, bear with me 🙂
Now let me tell you about our nice dinner last night. For the previous 2 nights my husband was in the mood for a fruit bowl. But last night I decided, I would rather have vegetables.
In our house we love to eat all kinds of vegetables raw. So I cut green peppers, broccoli and cauliflower, and added cherry tomatoes and green onions.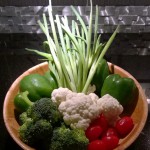 Doesn't that look yummy!!!!!!!
To complete the meal we added an egg and dunked the vegetables in an olive oil, balsamic vinegar, salt, pepper mixture.
This is one of my favorite dinners. Easy to prepare, healthy, definitely Paleo friendly and really delicious. And you really don't need a recipe for it 🙂