Hello everybody,
Having Paleo Gluten Free Bread Cravings is sometimes a problem. If it is not time it might be a lack of ingredients.
So when the bread cravings hit a few days ago, we decided to try a new recipe that came from "Divalicious Recipes" into my inbox. Here is the recipe:
http://divaliciousrecipes.com/2016/06/30/paleo-bread/
Now the instructions call for mixing the dry ingredients and then adding the wet ingredients one by one. We followed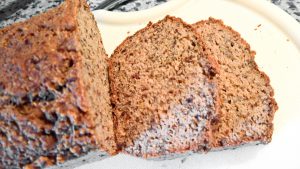 the recipe, but with some apprehension. The reason being, if you are not mixing the baking soda and vinegar very very well, the bread will start smelling like Ammoniak the next day. In order to prevent this from happening in a Paleo Gluten Free Bread, we usually mix  all the wet ingredients together and then add them to the dry mixture. That way everything gets mixed much better.
This time we followed the recipe and the bread tasted a little bit like Natron from the beginning. The texture was good and it was great that you can actually toast this Paleo Gluten Free Bread. We ate a couple of slices and then kept the rest in the refrigerator. But when we took it out the next day it already smelled a little bit like Ammoniak. It was still ok to eat. But after that the smell got so overpowering that it was impossible to use, so we had to throw half of the loaf away.
I try to avoid throwing away food at any cost, but some foods unfortunately turn into something that is not healthy to eat.
So getting back to that recipe, with mixing all the wet ingredients first, that Ammoniak smell could have been avoided. Another possibility is using baking powder instead of baking soda and vinegar. Than there is no reaction that would create Ammoniak. Just make sure that you use aluminum free baking powder.
I will definitely try this recipe again because the bread in itself tasted very good and the ingredients are very healthy. When I do I will post and let you know, how it turned out using baking powder instead of baking soda and vinegar.
Hope you all have a great day!