Hey everybody,
Just a short one today. My husband likes his black bean chili, so I decided to make a not so paleo black bean chili.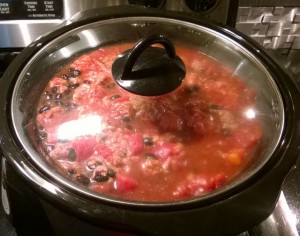 This black bean chili is very simple. I soaked a 32oz bag of black beans over night and this morning I layered them into my crock pot with 1.5 lbs. of ground beef and a 16oz can of diced tomatoes. I added a small 8oz can of tomato paste and a cup of water to cover the black bean chili.
As seasoning I used salt, hot sauce and a Mexican chili powder to taste. I will check before serving, if I need to add more seasoning.
Right now it is still cooking. I had it set to 8 hours on high, so they should be done by 6pm for dinner 🙂
I will later add this not so paleo black bean chili to my recipes.
If you have any questions in the meantime, just leave me a comment.

Just wanted to add a seasoning I frequently use for all kinds of foods: Mexilink Tajin Seasoning, 14 Oz, 2 Pack
It is a combination of chili peppers, salt and dehydrated lime juice. It is not too hot, but has a wonderful flavor I use in omelets, chili, frittata, etc.