Good morning my dear readers,
Do you remember this from an earlier post of mine?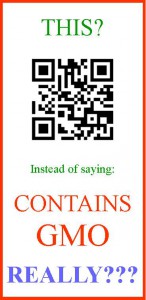 A New Bill Proposed to Block States from Carrying Out Labeling Laws
Well, the labeling law in Vermont is about to take place on July 1st, and the Chairman Pat Roberts, R-Kansas, and ranking Democrat Debbie Stabenow of Michigan have been busy trying to get a bill approved that would allow manufacturers use this bar code or a Toll Free number instead of just saying that this food contains GMO ingredients.
Read the proposed bill here http://www.agriculture.senate.gov/imo/media/doc/Mandatory%20Labeling%20Bill.pdf and the press release here http://www.agriculture.senate.gov/newsroom/dem/press/release/stabenow-bipartisan-agreement-is-win-for-consumers-establishes-first-mandatory-nationwide-label-for-gmo-foods-while-providing-certainty-uniformity-for-the-food-industry
For me, the more the industry is trying to get out of having to text label the products, the more they are guilty in hiding the dangers of their food products. If my food is safe I would proudly say so. If it is dangerous in any way – well, I would try to cover it up and hope people are not going to ask and find out.
This is our food we eat – we are talking about our lives and the lives of our children here. But the industry is not concerned about that – as we all know – as long as they make the most amount of money.
There is an article about this proposed bill in Yahoo Finances with a link at the end to write to your senators in the hope to stop this bill http://finance.yahoo.com/news/bill-block-state-gmo-labeling-232546401.html
Hopefully with our combined effort we can at least delay this bill.
In the meantime my dear readers, even the food is not labeled, still read the ingredient list if you need to buy a processed product. Otherwise chose organic vegetables, organic fruits and organic meat in order to avoid GMO in your food.
Until next time have a great day