Hello everybody,
Don't you sometimes think: 'What if I could grow my own food?'
I always was looking for a way to grow some of my own foods in our condo. We do not have a garden, but I have a shelf – which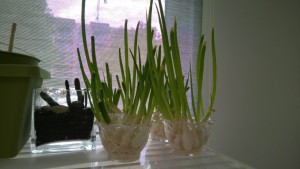 belongs to our cat 🙂 – that is West facing. So we get sun all afternoon.
I started with herbs, but the basil was getting tiny little flies, which told me that it was better to grow basil outside. After a lot of research it confirmed that basil gets those flies, if grown inside – no more basil inside for me (:
Then I saw people growing green onions on their window sill in water. I LOVE green onions and we buy tons of them every week. Instead of throwing the roots away I started putting them in water. And they are growing!
But I also read that if you just keep them in water, after about 3 cuts, they lose their flavor. So I ordered some organic potting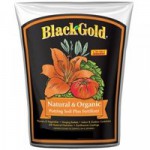 soil from Amazon: Black Gold 1302040 8-Quart All Organic Potting Soil
. I bought it before for my herbs and it works great.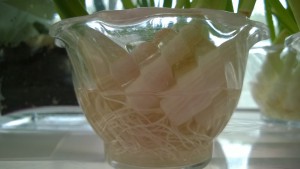 I am going to cut the onions this weekend and then plant them in pots, so they get their nutrients.
As you can see in this picture on the left, they create lots of very long roots when you put them in water. So they are perfect for planting them in soil.
Then I was thinking, if I could grow more of my own food, and today I came across an article in http://foodrevolution.org/blog/reduce-food-waste-regrow-from-scraps/
There they have a whole list of foods you can grow from just scraps. It is amazing. All the ends of lettuces, tomatoes, or potatoes that started to sprout I tossed out – and I could have grown my own food from it. I will certainly start growing more of my own food from now on. It does not hurt to try, and if it does not work, oh well, I gave it my best shot.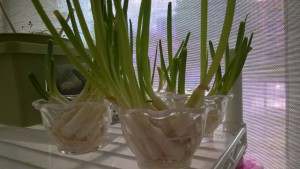 I am also going to get another package of organic herbs from Amazon: 100% CERTIFIED ORGANIC Herbs Set – 12 Organic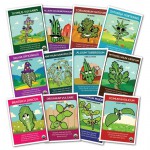 Herb Seed Packets Plus 4 BONUS Seed Packets, Plant Markers and Instruction Booklet
These seeds grow very well and you will get a lot of herbs from them.
So, if you have a window sill you can grow your own food too. I will keep you updated on my progress with different foods I will grow on my shelf 🙂
It will hopefully be more than just my beloved green onions.