My dear readers,
The bad news just keeps on coming. I am sure most of you have not even heard anything about it. So you ask, what bad news?
GMO POTATOE – we cannot get a break!
First they are dishing us up a GMO salmon and now a GMO potatoe. With one difference, Salmon is not on our tables yet. But Potatoes are!
According to Institute of Responsible Technology and ABC news, they are already selling 400 acres worth of GMO potatoes in 10 States of the Midwest and Southeast.
As stated in http://abcnews.go.com/Technology/wireStory/usda-approve-simplots-genetically-engineered-potato-33387744
The first generation of the Innate potatoes, approved by the Food and Drug Administration as safe for consumers in March, were marketed as White Russets. Doug Cole, the company's director of marketing and communications, said about 400 acres worth sold out last summer in grocery stores in 10 states in the Midwest and Southeast. The company plans to market about 2,000 acres of potatoes next summer.
We are once again used a guinea pigs. Nobody is telling us a word. They just sneak them on our dinner table. Soon we will have a delicious GMO dinner:
GMO Salmon with a side of GMO mashed potatoes – yum! – or not!!!!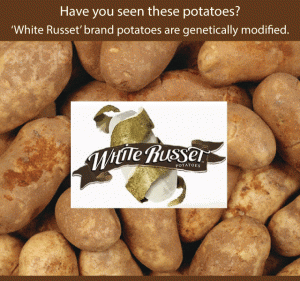 From the Institute of Responsible Technology website http://www.responsibletechnology.org/posts/bolo-alert-be-on-the-lookout-for-these-potatoes/
GMO potatoes are being sold in some stores in the Midwest and Southeast under the brand "White Russets."

Have you seen these potatoes?  If so, please email info@responsibletechnology.
If you have eaten or even seen this GMO potatoe let the Institute of Responsible Technology know.
If you don't know who they are:
About IRT.

The Institute for Responsible Technology (IRT) is a non-profit organization that researches and reports news and information about the health risks of genetically engineered food. GMOs (genetically modified organisms) are present in processed foods and many food products.
Join them in their fight against GMO foods! We need to educate as many people as possible to insure that GMO foods do not get sneaked into our food supply.
As always, please leave any comments you might have. I love to hear from you.
Have a wonderful Holdiay!
Karin