Hallo everybody!
Yesterday I was in the middle of writing my post with this yummy Gluten Free Cherry Chocolate Muffin recipe, provided by my wonderful sister, when the power went out.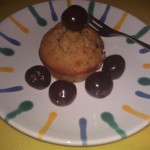 And not just that. We were watching the soccer game Peru against Chile and poofffff everything dark. It took 1.5 hours for the power to come back. Earlier we had a bad thunderstorm with very high winds and a branch damaged the power lines.
But now everything is fine and I was able to upload this yummy Cherry Chocolate Muffin recipe which my sister made.
A couple years ago I found a Chocolate Doughnut recipe on the site of one of my favorite authors: Yasmine Galenorn. You can check out her yummy recipe here: http://www.galenorn.com/Blog/2012/10/low-carb-chocolate-doughnuts-hot-chocolate/
With many thanks to Ms Galenorn, we adapted that recipe to our recipe with addition of different ingredients. But I always come back to her basic recipe because it is so versatile.
So, here is our Cherry Chocolate Muffin recipe. Enjoy!