My dear readers,
I want to wish everybody a Happy and Healthy New Year.
This time of the year is quite busy, so I was not able to post like I used to. 'Getting Creative with Leftover Grapes' is my first post of the new year.
Besides decorating, shopping and cooking for the holidays, I started making some baby clothes for a dear friend of mine. She will be having a little girl in April and I always loved to make baby clothes. So I got out my knitting and crocheting needles and went to town with it.
One sweater I already finished and now I am working on a cute little dress. This is so much fun 🙂
Now let's get back to 'Getting Creative with Leftover Grapes'. This year I did not make a big turkey and ham with all the side dishes, because my husband just wanted pork. So I bought some pork chops, marinated them and roasted them in the oven. As a side dish he wanted mushroom risotto and a little salad. From the pork chops we ate 2 days and the risotto 3 days – yes I always make too much 🙂 So the leftovers were no problem in this case.
But…… my husband wanted grapes and going to Aldi's we bought 4 bags – yes – FOUR! That was a week before Christmas and he then had to work and did not eat at home. So I was the one eating grapes. Don't get me wrong, I love grapes. But FOUR bags of grapes are a little too much. So I was 'Getting Creative with Leftover Grapes'.
And this is what I came up with: Cream Cheese Grape Tart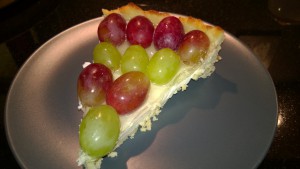 It was quite an ordeal. I had no almond flour, so the crust had to be coconut flour. I used  this recipe http://thecoconutmama.com/coconut-flour-pie-crust/ for the crust, which worked for me so-so. I had to use 1.5 times the amount and the dough did not stick together very well.
After baking it was all crumbly, so I got out some cream cheese and mixed it with a little bit of maple syrup and carefully – note the word carefully here – applied it to the crust. After sticking it in the refrigerator for 15 minutes I decorated the tart with the grapes and stuck it back in the fridge for another 15 minutes. In the meantime I made the gelatin and, once done, carefully poured it over the grapes – and back it went into the fridge.
After about an hour the tart was ready to eat – and I have to say: it was delicious…yummm – and through the addition of cream cheese the pieces came out without crumbling and falling apart.
Tomorrow I will post this recipe for all of you to enjoy.
Have a nice Sunday and a good week!
Karin