Hi everybody,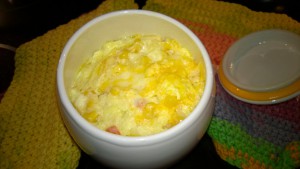 I know I have not been writing like I wanted to, but I went back to work at my previous job. This job being an hour away from where I live, I had to get creative with my food choices. The first 3 days I was still preparing my lunch the evening before, but once the week progressed it got more difficult to find the time.
So what do you make as a Almost Paleo lunch for the office? We do have a fridge and a microwave, so keeping something cold and warming it up for lunch is no problem, provided that you prepare it beforehand.
Thankfully my husband bought us for Christmas 2 sets of Egg-Tastic cookers –  just perfect: Egg-Tastic is the Almost Paleo lunch for the office 🙂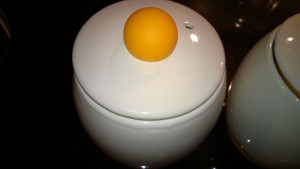 And I admit, I love them, even they are nothing really special – a ceramic mug with lid and silicone bottom and cover for the lid, so you can hold and open them without burning your fingers.
All you need to do is put in a couple of eggs and some salt, stir them up and add toppings of your choice – I use vegetables, some ham and cheese.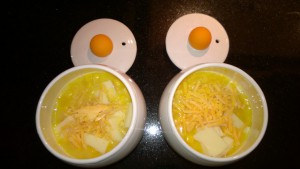 Now, I found that the cooking times do not work the way they tell you on tv and in the ads. I tried their suggestions of cooking the eggs for 1 minute and 20 seconds according to the power of my microwave. But they were still not cooked. So now I cook them for 2 minutes – stir – and cook them for another 2 minutes. That is perfect for me.
Now I make one for dinner and another one for lunch the next day together and I have my Egg-Tastic Almost Paleo lunch for the office 🙂
For some variations I also eat cheese and raw vegetables on some days, with some nuts in-between. Those lunches are much cheaper and definitely healthier than going out to eat or picking something up from a restaurant or fast food place.
Are you cooking and bringing your office lunch with you? Or are you going out to eat every day. Let me know in the comments.
Cheers and have a good week,
Karin