Good morning everybody,
I hope you all had a nice weekend. Here it was very hot on Saturday and then a storm moved through and cooled the temperature down. Today it is cloudy and rather cool. I do like it, because I know once I get back to Miami, it will be hot there.
Yesterday we visited our dad in the hospital and met there our friends. We decided that we would go to lunch after our visit.
It was Sunday, so what do I want to eat for lunch? They had some really delicious specials on the menu like: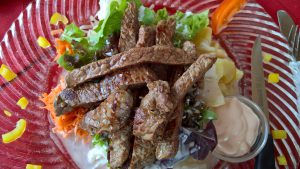 Jägerspatzln or Schwammerlgulasch mit Serviettenknödeln.
Well, the first one is made of flour, which I do not eat and the second one had the side dish made from bread, which I do not eat. So I needed a different strategy for choosing a healthy paleo lunch.
The problem with many traditional dishes is that they are based on using flour/wheat. Which back when those dishes were created was not a big problem. The old wheat varieties were not bad for us, but with the crossing of different varieties they created a wheat that many people cannot tolerate. Add in all the pesticides and you have an ingredient that is used in more foods than you can imagine.
Now when you go to a restaurant or Café here they list all the allergy causing ingredients underneath the dishes, so you know what you have to avoid.
But that does not make life easier. There are many foods I used to love to eat, and now I cannot eat them anymore. So I just have to think out of the box and find a way to recreate them without using for instance regular wheat flour.
Once I have recreated some dishes I will post them for you all to try.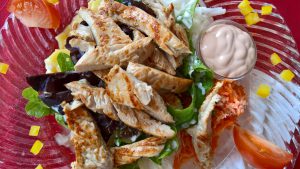 Now let's get back to yesterday and choosing a healthy paleo lunch. Looking through the menu I ended up with the same dish as always Salad with strips of steak. It was delicious. My sister chose the same salad just with strips of chicken.
Our friends on the other hand had the Jägerspatzln and potato soup with mushrooms for him and she ate what we call Grillteller – which is pieces of grilled meat with french fries and I think vegetables. She also traded some food with her husband, although she is not supposed to eat sugar and flour. The problem is not that she once in a blue moon eats something like that, but she then craves f.e. bread and eats more and more frequently. So that is not very good for her health. And we all know those cravings – it is almost impossible to stop.
Anyways, have a great Monday and see you soon.